UpGreat!
The new NTP – Qualified for more Value
The new NTP planetary gearbox with output flange uses the familiar output geometry of the TP+ gearbox. The reinforced roller bearings on the output allow very high external forces. Coupled with the new toothing and the backlash of ≤ 5 arcmin, the NTP offers unique performance parameters for this product segment.
Thanks to a wide range of ratios, the NTP planetary gearbox is suitable for the most diverse applications.
The new NTP planetary gearbox
Benefits for your application
With backlash ≤ 5 arcmin, the new toothing class of the product allows it to be used in applications requiring increased levels of precision.
Greater absorption of external forces
The use of more powerful roller bearings allows the NTP to absorb significantly higher external forces.
The new, high-quality toothing components with revised microgeometry improve the synchronization properties of the NTP.
As well as offering improved synchronization, the optimized toothing also has a positive impact on the operating noise of the NTP.
NTP – flange gearbox with reinforced output bearings 

NP planetary gearbox with output shaft

NPK bevel gearbox with smooth shaft

NPL planetary gearbox with reinforced bearing and B14 output geometry

NPLK bevel gearbox with reinforced bearings and B14 output geometry

NPS planetary gearbox with SP+ output geometry

NPSK bevel gearbox with SP+ output geometry

NPR planetary gearbox with slot holes for optimal rack and pinion mounting

NPRK bevel gearbox with slot holes for optimal rack and pinion mounting

NPT – planetary gearbox with TP+ output geometry

NPTK bevel gearbox with TP+ output geometry
Efficiency in any axis
The alpha Value Line is universally suitable: it represents the most economical solution whatever the requirements for driving any axis in virtually any industry.
Low-backlash planetary gearboxes for all classes
Value performance classes
WITTENSTEIN alpha develops complete, single-supplier solutions for driving any axis. They can be used in virtually any application – from high-precision axes in machine tools and manufacturing systems to packaging machinery where maximum productivity is a must. The name WITTENSTEIN alpha is synonymous with premium quality and optimal reliability, high precision and synchronization accuracy, maximum power density, a long lifetime and very simple motor mounting.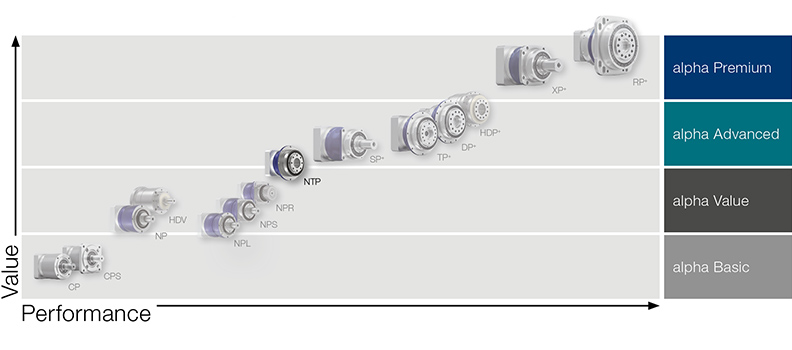 The alpha Value Line planetary and bevel gearboxes
alpha Value Line gearboxes are extremely economical to purchase, unbeatably efficient in operation and maintenance-free throughout their entire lifetime.
Our alpha Value Line sets new standards with regard to delivery times and delivery reliability, even with very high volumes.
Safe and secure motor mounting is possible in a single step.
Our gearboxes are distinguished by extremely quiet running and synchronization accuracy.
Modular configuration of the interfaces to the motor and the application. You can choose between several different clamping hub diameters, input stages and design and mounting variants.
More than 95% efficiency at full load.
The gearboxes are suitable for both cyclic and continuous operation.
Class-appropriate precision
Torsional backlash in the region of <= 8 arcminutes.
The alpha Value Line lets you select the mechanical interface flexibly according to your individual requirements.
Thanks to the special lubrication concept, you can install the gearboxes vertically, horizontally or with the output facing upwards or downwards.
For example, in linear applications with a rack and pinion or a timing belt pulley.
The HIGH TORQUE version provides extremely high power density.
Is there anything you'd like to know about our alpha Value Line? Do you require personal advice?
If so, please contact us directly. We look forward to hearing from you!