Our low-backlash gearboxes make a big impression in tube machining centers
High positioning accuracy and reproducibility as a result of reduced backlash and high torsional rigidity, coupled with the option of individual optimization for special mounting conditions – these features of the planetary and right-angle gearboxes in WITTENSTEIN alpha's Advanced and Premium Lines were what particularly convinced the developers at J. Neu GmbH. Our gearboxes can be found in their 6-axis tube machining centers, where they score with high machining speed, precise 2D and 3D forming of tubes and profiles and extraordinary efficiency.
Gearboxes for all axes from a single source
TP+ 110 with output flange
The high torsional rigidity and positioning accuracy were compelling arguments from a process perspective for using the TP+ 110 gearbox with output flange in the bending head from a process perspective. The minimal torsional backlash of less than one arcminute ensures that all parts are bent with high precision and reproducibility, even though the number of load cycles in the bending head is extremely large. The compact design of the TP+ is another key aspect: interruption contours in the machine's bending chamber are reduced to a minimum, creating more design freedom.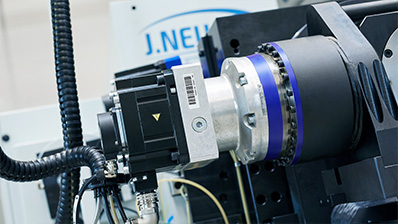 Two SP+ 210s in a gantry configuration
Since tubes and profiles made from mild or high strength steels, stainless steel or aluminum have to be formed on the tube machining centers with an outer diameter of up to 90 mm, it must be possible to control very high forces safely and reliably in the feed axis for the material. J. Neu therefore synchronized two SP+ 210 gearboxes in a gantry configuration in order to produce the required torques and the resulting feed forces. These gearboxes are simultaneously characterized by minimal torsional backlash and high reproducibility when feeding material.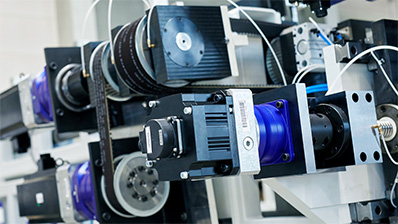 Two SP+ 140s and a modified TK+ 110 right-angle gearbox
Two additional SP+ 140 gearboxes ensure precise and dynamic adjustment of the bending head both vertically and laterally. Customer and application-specific modifications were made to the TK+ 110 right-angle gearbox on the axis for retracting the mandrel. Owing to a planetary roller screw integrated by WITTENSTEIN alpha into the flanged hollow shaft there on the output side, the gearbox can be connected to the retract axis without any additional components. Moreover, the right-angle design significantly reduces the necessary installation space in the extension of this machine axis.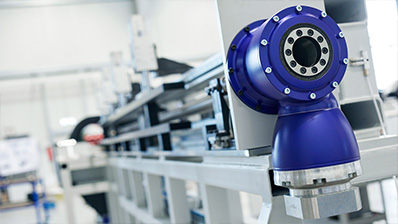 A Premium Line gearbox – the XPK+ – is installed on the torsion axis, with which a part can also be formed around its own axis during the bending process if need be. The output interface is a highlight of the XPK+. It was developed with very high torques in mind and enables improved power transmission far exceeding the industry standard. Even high radial and axial forces can be absorbed without any problem. Finally, owing to the exceptional tooth quality, the XPK+ exhibits permanently low torsional backlash in use of less than one arcminute as well as very high torsional rigidity. Here, too, application-specific modifications were made to prevent the gearbox from extending into the bending chamber.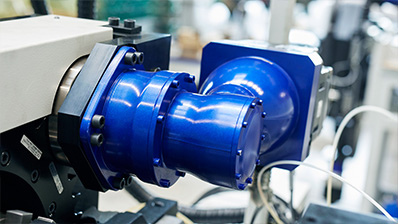 Gearbox design: Three paths to one goal
The CAD POINT online tool, the web based cymex® select and the cymex® 5 sizing software, which requires a license – three different software concepts from WITTENSTEIN alpha that support the selection and sizing of gearboxes and actuators and allow users to request a quote immediately.
CAD POINT is mainly targeted at customers who already use drive solutions from WITTENSTEIN alpha, are familiar with the applications and benefits and would like to compare configurations or retrieve CAD data with just a few clicks.
cymex® select is designed for users who are looking for the best drive solution on the basis of only a few inputs, quickly, simply and without prior knowledge of the WITTENSTEIN alpha product portfolio.
When it comes to more detailed sizing tasks – like main axes involving shaft and bearing calculations, the simultaneous definition of any number of axes in one project, an examination of electrically preloaded drives or the optimization of design spaces – the multifunctional cymex® 5 sizing software is the perfect tool.