Two Week Delivery | XP+ Preferred Standards
Precise. Prompt. Predictive.
WITTENSTEIN puts precision motion control in easy reach with XP+ Preferred Standards. Industry leading price-to-performance, rapid availability, and IIoT connectivity come together to form the ultimate precision gearbox. 24-hr speedline delivery available on request!
Available in ratio 3 - 100
Standard backlash (≤3 arcmin)
Keyed Shaft
Compatible with any servo motor brand
Available with cynapse® for connectivity in Industry 4.0 – ask about a free trial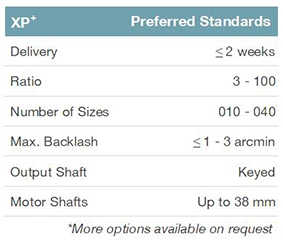 Technical Resources
Download CAD Models, Datasheets, and Drawings for the XP+ Preferred Standards

Ready to Size Like an Xpert?